Sochi… "We have a problem"
February 5, 2014
Journalists at Sochi are live-tweeting their hilarious and gross hotel experiences
Amid continued debate over whether or not Sochi is prepared to host the 2014 Olympics, which begins Thursday, reporters from around the world are starting to check into local hotels — to their apparent grief. Some journalists arriving in Sochi are describing appalling conditions in the housing there, where only six of nine media hotels are ready for guests. Hotels are still under construction. Water, if it's running, isn't drinkable. One German photographer 
told the AP
 over the weekend that his hotel still had stray dogs and construction workers wandering in and out of rooms.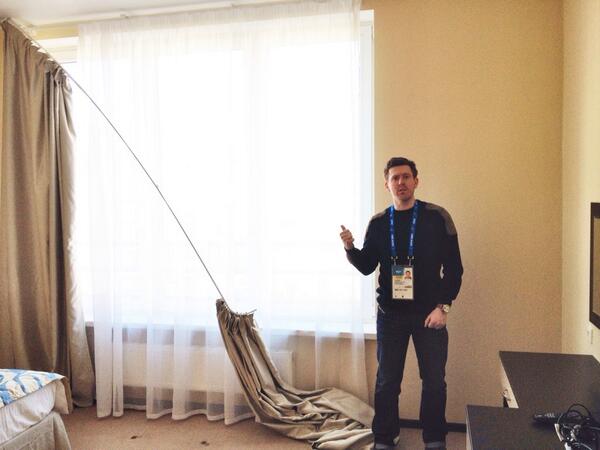 This is the one hotel room @Sochi2014 have given us so far. Shambles. #cnnsochi
CNN booked 11 rooms in one @Sochi2014 media hotel five months ago. We have been here for a day and only one room is available. #cnnsochi
Still waiting for "preparations" on hotel room to finish. Hoping they're origami-folding toilet roll, rather than, say, putting the roof on.
I have a room! No heating or internet, but it has a (single) bed at least…
Got back to hotel. Lift broken after half day in use. Trekked up stairs. Door to my floor (that'd be the fire door) locked. Utter farce.
Water main break means no water at our hotel in #Sochi. Could take awhile to fix. #CTVSochi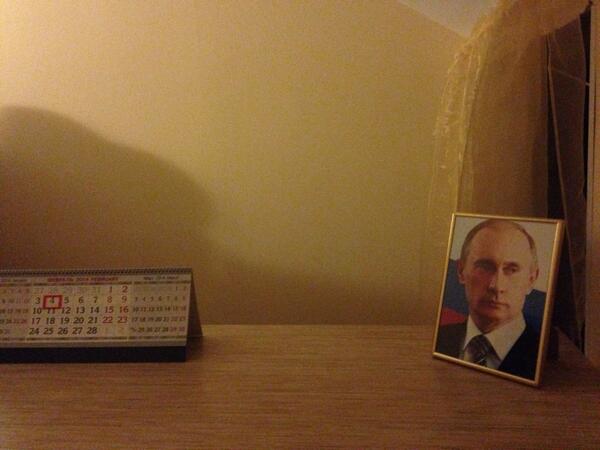 The reception of our hotel in #Sochi has no floor. But it does have this welcoming picture.
Very interesting discussions about whether we have a hotel room only take seven people to resolve. Well spotted, Maxim.
@bruce_arthur Hotel issues have been happening to a lot of people. Left out on the street, you risk being poisoned or trapped like the dogs.

Miss you, hot water in my hotel. You were great.

People have asked me what surprised me the most here in Sochi. It's this. Without question … it's … THIS.

Ok, so my hotel doesn't have a lobby yet.

For those of you asking, when there's no lobby in your hotel, you go to the owner's bedroom to check in. #Sochi2014

My hotel has no water. If restored, the front desk says, "do not use on your face because it contains something very dangerous." #Sochi2014

Water restored, sorta. On the bright side, I now know what very dangerous face water looks like. #Sochi #unfiltered

Also on the bright side: I just washed my face with Evian, like I'm a Kardashian or something.

Made new pal from La Presse as we struggled to find hotel. When we got to our (temporary) rooms his doorknob came off in hand #roadtosochi

Congrats to @Dave_Schwartz only media personality who's arrived in Sochi with a hotel room that's ready, with doorknob that doesn't fall off

Watch your step @Sochi2014 — I've noticed on walkway and on sidewalks that not all man holes are always covered.

The disarray seems to contradict repeated promises from both Russian and Olympic officials that Sochi is ready for the games, despite terrorist threats, unfinished construction and concerns over human rights abuses in the country. The Sochi Olympics have also run way over budget — to a record $51 billion — which seems particularly remarkable when you consider that some of the work isn't actually done. International Olympic Committee President Thomas Bach has of course denied that, insisting both that the "stage is ready" and that many concerns, including those over safety and construction, are overblown. Meanwhile, Dmitry Chernyshenko, president of Sochi's Olympic organizing committee, had this Twitter exchange with a CNN producer who complained that only one of the network's 11 requested rooms was ready for them:

@HarryCNN to believe you need just to turn back and to look at the mountains 😉

@DChernyshenko Our media hotel is not ready Dmitry….11 rooms booked five months ago, only one ready. Please help.

In any case, the world can decide for itself soon enough. Sochi's opening ceremony will air Feb. 7 at 11 a.m. ET; the actual events will start the day before.

(source, thank you http://www.washingtonpost.com/)